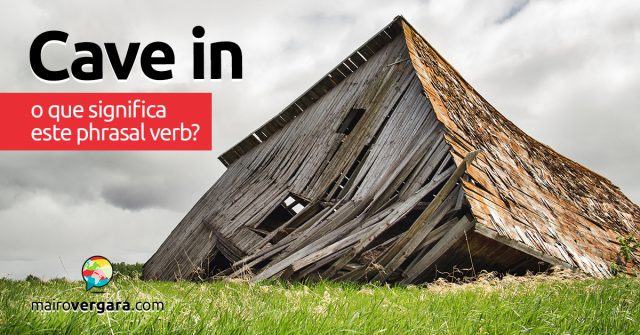 Cave é uma palavra fácil de aprender para nós: acrescente três letras a ela e você tem o significado em português – "caverna". Essa semelhança, aliás, não é acaso, pois ambas palavras têm origem na palavra latina cavus, "oco".
Há já uns três séculos, a palavra cave passou a ser usada como verbo no sentido de "desabar" ou "desmoronar" – um sentido afinal bastante lógico, já que qualquer pessoa que em algum momento se encontrou em uma caverna sabe qual é o maior medo que sentimos: será que tudo vai desabar em cima de nós?
Como geralmente acontece com palavras que geralmente se referem a fenômenos físicos, cave logo adquiriu um sentido figurado: o de "ceder" ou "se submeter" a pressão. E, seguindo outro padrão comum da língua inglesa, o simples verbo cave ganhou uma preposição de brinde, formando o phrasal verb cave in.
Se você está se perguntando se há ou não diferença entre cave e cave in – não, não há. Em qualquer uma das frases abaixo (o seu material de revisão para o Anki, como sempre), a preposição in poderia ser removida sem que o sentido sofresse alteração alguma. No entanto, cave in é um jeito mais sonoro e enfático de dizer "desmoronar", e tende a ser usado com maior frequência.
Vejamos lá os exemplos, e como sempre lembre-se de que qualquer dúvida que você tenha pode ser sanada nos comentários – é só deixar a sua pergunta lá!
1 – No sentido literal, cave in significa "desmoronar", "desabar", "ruir".
Because of the explosion, the roof of the building caved in, trapping several people.
Por causa da explosão, o teto do edifício desabou, cortando a saída de várias pessoas.
The building's roof caved in under the weight of the snow.
O teto do edifício desabou sob o peso da neve.
We were able to get the kids out of the house before the roof caved in.
Conseguimos tirar as crianças da casa antes que o teto caísse.
The roof of the mine caved in when no one was there.
O teto da mina desabou quando ninguém estava lá.
The tunnel caved in on the train.
O túnel desabou sobre o trem.
The earthquake made the walls cave in.
O terremoto fez as paredes desmoronarem.
The sides of the snow fort caved in.
As paredes do forte de neve ruíram.
The mine shaft caved in on a group of miners, but fortunately they were rescued.
O poço da mina desabou sobre um grupo de mineiros, mas felizmente eles foram resgatados.
Part of the roof has caved in.
Parte do teto desmoronou.
I had a nervous breakdown, everything just seemed to cave in on top of me.
Eu tive um colapso nervoso, tudo parecia estar desmoronando em cima de mim.
I heard a huge bang and thought the whole house was going to cave in.
Ouvi um estrondo enorme e pensei que a casa toda fosse desabar.
2 – No sentido figurado de "ceder/submeter-se/render-se a pressão".
At first, they refused to sign the agreement, but they caved in when they heard another firm was being approached.
No começo eles se recusaram a assinar o documento, mas cederam quando ouviram que outra firma estava sendo contatada.
She accused the university of caving in to political pressures.
Ela acusou a universidade de se submeter a pressões políticas.
Under the threat of a strike, the management caved in and agreed to reinstate annual pay increases for all employees.
Sob ameaça de greve, a administração cedeu e concordou em reinstituir o aumento anual de salário para todos os funcionários.
Finally, the manager caved in to the customer's demands.
Finalmente, o gerente se rendeu às exigências do cliente.
I refuse to cave in under pressure from my opponent.
Eu me recusei a ceder sob pressão de meu oponente.
The prosecutor's questions soon made the witness cave in.
As perguntas do promotor logo fizeram a testemunha se render.
She finally caved in and gave the press the interview they wanted.
Por fim ela se rendeu e deu à imprensa a entrevista que queriam.
3 – Quando dito de uma pessoa, cave in também pode significar "desabar" de exaustão:
I hardly remember the end of the marathon because I caved in as soon as I crossed the finish line.
Eu mal me recordo do final da maratona porque eu desabei assim que cruzei a linha de chegada.
After a twenty-mile hike I caved in.
Após uma caminhada de vinte milhas, eu desabei.
(Uma milha é 1,6 km; vinte milhas, 32 km.)
I got home and caved in on the sofa.
Eu cheguei em casa e desabei no sofá.
Gostou do post de hoje?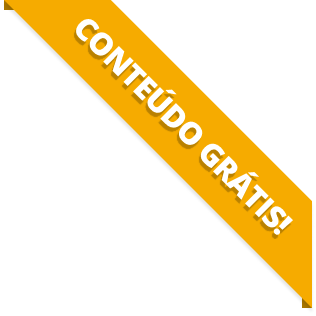 BAIXE O MATERIAL DO POST(PDF+MP3) PARA ESTUDAR QUANDO E COMO QUISER.