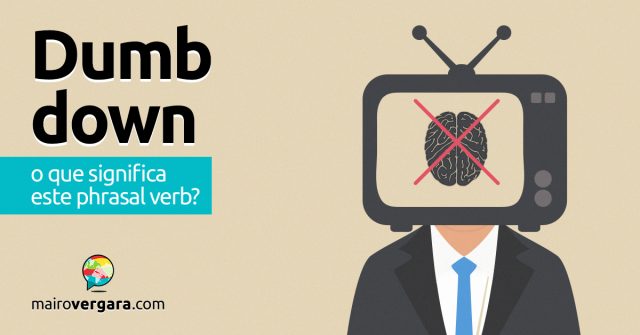 Dumb (o b final não se pronuncia) é uma palavra que está no inglês desde antes da descoberta das Américas. Como seria de se esperar com uma palavra de idade provecta dessas, o seu significado não ficou intacto com o passar dos séculos: inicialmente, o termo dumb significava "mudo" e era usado para se referir aos animais desprovidos do dom da fala e, portanto, "não-inteligentes": dumb beasts.
Foi daí que dumb foi adquirindo o sentido principal dos dias de hoje, "estúpido" ou "idiota". É daí que vem o nome do elefante do desenho animado (ou do filme com a Eva Green!): Dumb-o!
No entanto, foi só uns cem anos atrás que dumb passou a ser usado como verbo com o sentido de "simplificar" ou "descomplicar" um assunto para que ele possa ser entendido melhor. Obviamente, o verbo é usado de forma depreciativa, dando a entender que o assunto está sendo "simplificado" porque o público não tem inteligência suficiente para compreendê-lo na íntegra.
A tradução "simplificar/descomplicar" não transmite bem o sentido depreciativo do verbo, mas vamos com ela mesmo.
No one favored dumbing down the magazine.
Ninguém era a favor de simplificar a revista.
You may need to dumb down your presentation for this audience.
Pode ser que você precise descomplicar sua apresentação para este público.
The researchers dumbed down the report before releasing it to the public.
Os pesquisadores simplificaram o relatório antes de o lançar para o público.
The professor decided to dumb down the course material a bit after most of his class failed the first exam.
O professor decidiu descomplicar um tanto o material do curso depois que a maioria da classe não passou na primeira prova.
I think we ought to dumb the play down a bit; after all, most of the people coming to see it won't have a PhD in drama.
Acho que devíamos simplificar um pouco a peça; afinal de contas, a maioria das pessoas que vem assisti-la não terá um PhD em artes cênicas.
If you have to dumb down your resume to get hired, you know one thing — that manager doesn't deserve your talents!
Se você precisa simplificar seu currículo para ser contratado, pode saber uma coisa: este gerente não merece seus talentos!
Às vezes, dumb down também é usado simplesmente como "emburrecer" ou "estupidificar", sem necessariamente se referir ao fato de que alguém quis simplificar ou descomplicar um tema.
Have history textbooks been dumbed down over the past decade?
Será que os livros de história foram emburrecidos na última década?
The news media these days is dumbing down, with more photos of celebrities than real news stories.
O noticiário nos dias de hoje está se estupidificando, com mais fotos de celebridades do que notícias reais.
The BBC denies that its broadcasting has been dumbed down.
A BBC nega que seus programas tenham sido emburrecidos.
Note que, como a maioria dos verbos, dumbing down pode ser usado como gerúndio, assumindo o papel de substantivo:
What we're witnessing is the dumbing down of society.
O que estamos testemunhando é a estupidificação da sociedade.
Você já conhecia o verbo to dumb down? Caso não, fica a nossa recomendação de sempre: anote algumas das frases acima no Anki para não esquecer mais!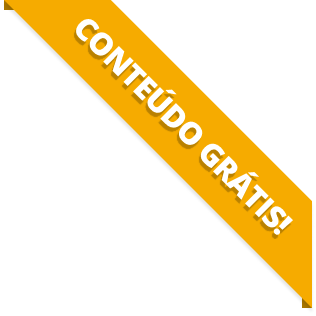 BAIXE O MATERIAL DO POST(PDF+MP3) PARA ESTUDAR QUANDO E COMO QUISER.