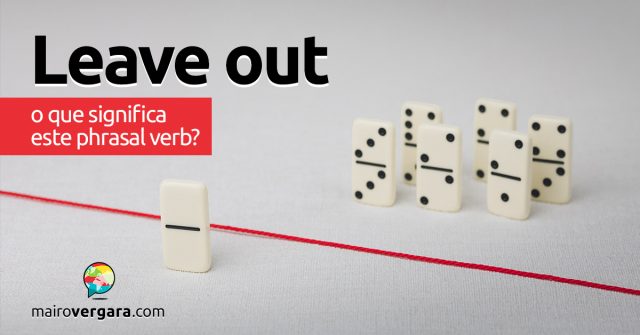 Leave out é um phrasal verb básico da língua inglesa, essencial ao vocabulário de qualquer estudante. A formação dele é muito simples: temos o verbo leave, que pode significar "sair" ou "deixar", e a preposição out, que pode ser "fora", "de fora" ou "para fora". Os sentidos que leave out tem, consequentemente, são todos relacionados a ideia de "deixar algo de fora".
Leave out pode ter quatro sentidos, no total, que vamos explorar em detalhes e com muitos exemplos na prática. Lembre-se que para usar as frases de exemplo eficientemente, é fundamental que use o Anki. Caso não conheça esse fantástico programa de revisão, veja o tutorial completo do Anki antes de prosseguir.
1 – O primeiro sentido de leave out é "deixar algo de fora" de uma contagem, um evento ou algo assim:

Now have we left any country out?
Agora, nós deixamos algum país de fora?
The movie leaves a lot out of the story.
O filme deixa muito de fora da história.
You left out the best parts of the story.
Você deixou de fora as melhores partes da história.
She left out an important detail in her account.
Ela deixou de fora um importante detalhe, no relato dela.
They always leave her out of the conversation.
Eles sempre a deixam de fora da conversa.
If you prefer mild flavours reduce or leave out the chilli.
Se você prefere sabores moderados, reduza ou deixe de fora o chilli.
We decided to leave the chapter out of the book altogether.
Nós decidimos deixar o capítulo de fora do livro completamente.
Some would question the wisdom of leaving her out of the team.
Alguns questionaram a sabedoria de deixar ela de fora do time.
This sentence doesn't make sense; a keyword has been left out.
Esta frase não faz sentido; uma palavra-chave foi deixada de fora.
Did everyone get a piece of cake? I don't want to leave anyone out.
Todo mundo recebeu um pedaço de bolo? Eu não quero deixar ninguém de fora.
2 – Leave out pode significar "deixar (algo) exposto", ou seja, deixar algo às vistas em determinado local:
Who left the dirty dishes out on the kitchen counter?
Quem deixou as louças sujas expostas no balcão da cozinha?
Don't leave your dirty clothes out in the middle of the living room!
Não deixe suas roupas sujas expostas no meio da sala de estar!
Brian Graham left his keys out on his desk while he was in a meeting.
Brian Graham deixou as chaves dele expostas em sua mesa, enquanto ele estava numa reunião.
You should never, under any circumstance, leave your wallet out on a table.
Você nunca deveria, sob quaisquer circunstâncias, deixar sua carteira exposta numa mesa.
3 – Veja agora leave out como "deixar (algo) do lado de fora" — de uma casa ou de um container qualquer, geralmente:
I left the dog out last night.
Eu deixei o cachorro do lado de fora, ontem à noite.
You can leave your car out tonight.
Você pode deixar seu carro fora, esta noite.
Aw man, I accidentally left out the ice cream — now it's all melted.
Ah, cara, eu acidentalmente deixei fora o sorvete — agora está todo derretido.
We left the cat out last night and it nearly froze to death.
Nós deixamos o gato fora ontem à noite e ele quase congelou até a morte.
4 – Por fim, veja exemplos de leave out como "excluir" uma pessoa de certa atividade/evento:
He hadn't been asked to the party and was feeling very left out.
Ele não havia sido chamado para a festa e estava sentindo-se muito excluído.
("left out" aqui funciona como um adjetivo, que descreve a pessoa como "excluída" da tal atividade.)
She feels left out because the other children don't play with her.
Ela sente-se excluída porque as outras crianças não brincam com ela.
Of course I felt left out when you guys went to the concert without me!
Claro que eu me senti excluído quando vocês foram ao concerto sem mim!
You know it hurts your brother's feelings when you leave him out of things.
Você sabe que fere os sentimentos do seu irmão quando você o deixa de fora das coisas.
(Poderia ser "você o exclui das coisas".)
Chegamos ao final. Curtiu o phrasal verb leave out? Então compartilhe o post. Qualquer dúvida ou sugestão que tiver, escreva abaixo. Até a próxima!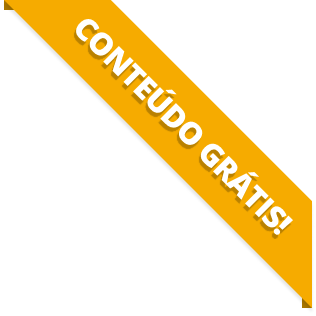 BAIXE O MATERIAL DO POST(PDF+MP3) PARA ESTUDAR QUANDO E COMO QUISER.