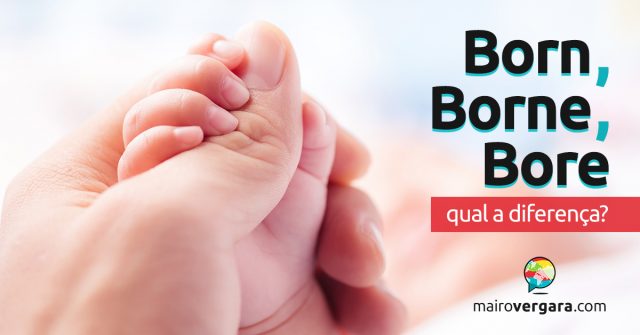 As palavras born, borne e bore são tempos diferentes do verbo bear. Essa matéria é simples; basta praticar com as frases de exemplo que traremos e usar o Anki para revisar. Veja nosso breve tutorial do Anki antes de prosseguir, se não estiver familiarizado com ele.
Voltemos à explicação do tema. Em primeiro lugar, o verbo bear tem vários sentidos: carregar, suportar, portar, arcar, dar, dar à luz, entre outros. Bore é passado do verbo bear. A confusão só nasce com born e borne: ambos são particípio passado de bear. Tudo se esclarece, no entanto, ao entender que born só deve ser usado quando o sentido for o de "nascer". Como? Veja este exemplo:
She was born in Aberdeen.
Ela nasceu em Aberdeen.
("Was born" é literalmente "foi nascida", onde "nascida" equivale a "born". Porém "nasceu" soa melhor em português.)
No caso acima, jamais se poderia usar borne, uma vez que o sentido é "nascer". Em qualquer outro sentido, o particípio a ser usado é borne.
Veremos exemplos de born, borne e bore em contexto. Mas antes, confira alguns do verbo bear, no sentido de "nascer":
She was the woman who would bear his children, raise and nurture them.
Ela era a mulher que iria dar à luz os filhos dele, criá-los e nutri-los.
My mother had lost the ability to bear children at my birth.
Minha mãe havia perdido a capacidade de dar à luz filhos, em meu nascimento.
For in just two days my own wife is due to bear her second child.
Porque em apenas dois dias, minha própria mulher está prevista para dar à luz sua segunda criança.
Agora, seguem exemplos de born, como particípio de bear:
They say that in China a new baby is born every five minutes.
Eles dizem que na China um novo bebê nasce a cada cinco minutos.
I was born with a sense of curiosity.
Eu nasci com um senso de curiosidade.
Vale mencionar que born também é um adjetivo. Nesse caso, equivale a "nato" ou ao próprio adjetivo "nascido". Veja:
A newly born baby.
Um bebê recém-nascido.
(Aqui, "born" vem acompanhado do advérbio "newly", que significa "recentemente". A intenção foi dizer o mesmo que "recém-nascido".)
Dr. Rodriguez is a native Texan, born and raised in Houston.
Dr. Rodriguez é um nativo Texano, nascido e criado em Houston.
He's a born engineer.
Ele é um engenheiro nato.
Are you a born investment banker?
Você é um banqueiro de investimentos nato?
Are you a born athlete?
Você é um atleta nato?
Morse was not a born scientist; he was an educated man who had a love for art.
Morse não era um cientista nato; ele foi um homem educado que tinha um amor pela arte.
Agora, voltemo-nos ao particípio borne. A seguir, você confere seus exemplos de uso. Note que, em nenhum deles, o sentido é "nascer" — pode até ser "dar à luz", mas não "nascer":
This person had borne her, and done little else.
Essa pessoa tinha dado-a à luz e feito pouco além disso.
His wife had borne him a son.
A esposa dele havia dado à luz um filho seu.
The expert's fee shall be borne by the tenant.
A taxa de expert deve ser custeada pelo inquilino.
Already the campaign has borne fruit.
A campanha já deu fruto.
The website would not have borne this weight of traffic.
O website não teria suportado esse peso de tráfego.
She has borne all her problems with great courage.
Ela suportou todos os seus problemas com grande coragem.
All costs associated with this recall will be borne by Toyota.
Todos os custos associados com essa recolha vão ser cobertos pela Toyota.
Por fim, confira exemplos do tempo passado bore:
She bore the pain stoically.
Ela suportou a dor estoicamente.
He bore the surname Tiller.
Ele carregava o apelido de Tiller.
She bore herself with dignity.
Ela portava-se com dignidade.
(O pronome "se" faz o papel de "herself" na tradução. Poderia ser "Ela portava a si mesma com dignidade".)
Many of the papers bore his flamboyant signature.
Muitos dos artigos portavam sua assinatura extravagante.
People bore the tribulations of the subsequent years with astonishing patience.
As pessoas suportaram as tribulações dos anos subsequentes com uma paciência surpreendente.
Encerramos o post de hoje. Espero que tenha curtido, deixe qualquer sugestão/dúvida logo abaixo e até mais!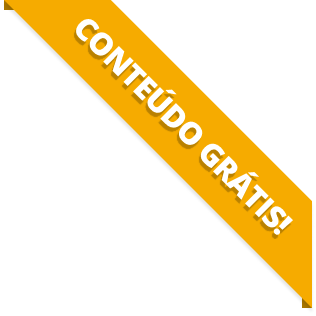 BAIXE O MATERIAL DO POST(PDF+MP3) PARA ESTUDAR QUANDO E COMO QUISER.