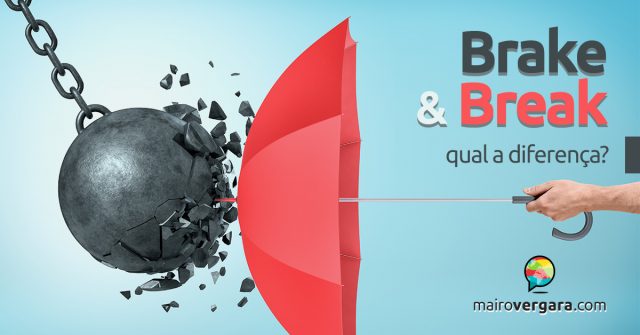 Brake e break são palavras similares na escrita e idênticas na pronúncia. No entanto, não poderiam ser mais distantes na versatilidade. Brake é muito mais limitada que break.
Usamos brake para duas coisas: como equivalente do substantivo "freio" e do verbo "frear". Para além disso, existem alguns usos extremamente específicos — antigos e/ou técnicos — que não valem a pena mencionar.
Break, por outro lado, tem uma enorme quantidade de usos possíveis. Nas frases de exemplo que verá adiante, reuni os 6 principais "campos semânticos" dos quais break participa. Isso engloba as situações gerais em que você verá break; dessa maneira, vai saber diferenciar tranquilamente break de brake.
Antes dos exemplos, quero recomendar o Anki, para quem não o conhece. O Anki é um programa que facilita a revisão de qualquer conteúdo. Usando ele diariamente (uma tarefa simples e rápida), você garante que não vai esquecer o vocabulário aprendido aqui no site. Veja o tutorial completo.
Break
1 – Confira exemplos de break no sentido de "quebrar" — como em português, "quebrar" pode ser usada informalmente como sinônimo de "infringir", "interromper", entre outras palavras —:
The rope broke with a loud snap.
A corda quebrou com um alto estalo.
("Broke" é passado de "break".)
His concentration was broken by a sound.
A concentração dele foi interrompida por um som.
("Broken" é particípio passado de "break".)
The council says it will prosecute traders who break the law.
O conselho diz que vai processar negociantes que infringir a lei.
Thus, these pipes need frequent examination in case of sudden breaks.
Então, estes canos precisam de exame frequente, em caso de quebras repentinas.
2 – Break também é usada para falar de certos fenômenos da natureza. As traduções variam, mas estes exemplos compreendem essencialmente as possibilidades de uso de break nesse sentido:
The weather broke and thunder rumbled through a leaden sky.
O tempo mudou e o trovão ribombou por um céu de chumbo.
When all were aboard, the storm broke.
Quando todos estavam a bordo, a tempestade começou.
Dawn was just breaking.
A aurora estava já surgindo.
The Caribbean sea was breaking gently on the shore.
O mar Caribenho estava quebrando gentilmente na praia.
3 – Break também é usada para dizer que uma notícia ou história tornou-se pública:
Since the news broke I've received thousands of wonderful letters.
Desde que a notícia saiu, eu recebi milhares de cartas maravilhosas.
The news broke that London would host the Olympic Games.
A notícia saiu que Londres sediaria os Jogos Olímpicos.
After the story broke, leading papers including the New York Times picked it up.
Depois que a história saiu, jornais líderes, incluindo o New York Times, utilizaram-na.
("Picked it up" aqui significa que os jornais "escolheram" a notícia para reprodução, ou seja, utilizaram ela no editorial.)
4 – Uma frase bastante usada é break the news, que significa "contar a notícia", ou seja, revelar algo (geralmente desagradável) a alguém:
He was trying to break the terrible news gently to his father.
Ele estava tentando contar a terrível notícia gentilmente para seu pai.
Police broke the news to her father and mother today.
A polícia contou a notícia para o pai e a mãe dela, hoje.
He was devastated when a doctor first broke the news to him.
Ele ficou devastado quando o médico primeiro deu a notícia a ele.
5 – Break também pode ser sinônimo de "pausa":
The magazine has been published without a break since 1950.
A revista tem sido publicada sem pausa desde 1950.
One table had an older family, taking a break from cooking at home.
Uma mesa tinha uma família mais velha, tirando uma folga de cozinhar em casa.
After a three-year break they decided to put this popular event back on the track!
Após uma pausa de três anos eles decidiram colocar esse popular evento de volta aos trilhos!
I need a break from mental activity.
Eu preciso de uma pausa da atividade mental.
Those returning to work after a career break.
Aqueles retornando ao trabalho, após uma pausa na carreira.
Students come here to eat, drink and take a break from school work.
Estudantes vêm aqui para comer, beber e fazer uma pausa do trabalho escolar.
6 – Break pode ainda ser sinônimo de "estreia":
He got his break as an entertainer on a TV music hall show.
Ele conseguiu sua estreia como apresentador em um programa de TV musical.
The story that got me my break was published in an anthology by Vintage.
A história que me rendeu minha estreia foi publicada em uma antologia, por Vintage.
Those who pass out from her academy will be guaranteed an acting break.
Àqueles que passarem da academia dela serão garantidos uma estreia na atuação.
Brake
1 – Como vimos, brake pode ser sinônimo de "freio(s)" — seja literalmente ou figuradamente —:
He slammed on his brakes.
Ele pisou forte em seus freios.
A brake pedal.
Um pedal de freio.
If you are a beginner cyclist, apply both brakes with even pressure.
Se você é um ciclista iniciante, pressione ambos os freios com igual pressão.
The basic rule is to apply hard pressure to the brake pedal and leave it there.
A regra básica é aplicar forte pressão no pedal de freio e deixá-lo lá.
Constrained resources will act as a brake on research.
Recursos limitados vão agir como freios na pesquisa.
In the past, rising oil prices have put the brakes on economic growth.
No passado, crescentes preços de petróleo colocaram freios no crescimento econômico.
The authorities in China have already acted to put the brakes on credit growth.
As autoridades na China já agiram para colocar freios no crescimento do crédito.
What do you do, then, if you want to put the brakes on the future?
O que você faz, então, se você quer colocar freios no futuro?
2 – E por fim, brake é equivalente a "frear":
She had to brake hard to avoid a milk float.
Ela teve que frear forte para esquivar-se de um leiteiro.
("Milk float" é um veículo especificamente projetado para a entrega de leite.)
He braked heavily, stopping just short of the pickets.
Ele freou fortemente, parando bem perto dos piquetes.
The driver braked abruptly, causing the car to skid a little.
O motorista freou abruptamente, fazendo o carro derrapar um pouco.
When I realized I urgently needed to stop I braked hard and my foot slipped off the pedal.
Quando eu percebi que urgentemente precisava parar, eu freei forte e meu pé deslizou do pedal.
Chegamos ao final. Espero que tenha curtido, compartilhe com seus colegas e até a próxima!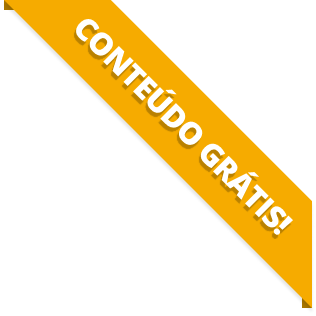 BAIXE O MATERIAL DO POST(PDF+MP3) PARA ESTUDAR QUANDO E COMO QUISER.