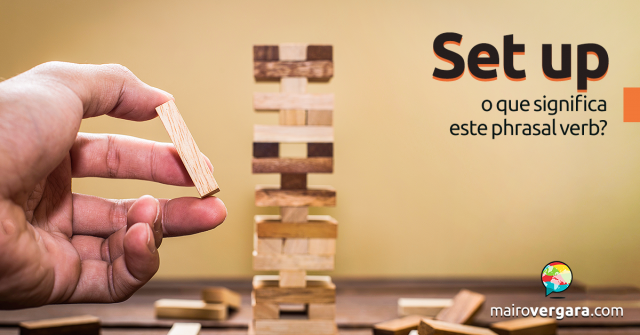 No post de hoje vamos ver um phrasal verb que está no grupinho dos mais complexos. Isso porque ele pode ser usado de oito maneiras diferentes. Mas não desanime! Com a prática é simples entender como set up é usado. Quando queremos dizer que algo foi fundado, instalado, começado, usamos esse phrasal verb, assim como para dizer que planejamos ou organizamos alguma coisa. Também usamos set up no sentido de erguer ou construir alguma coisa, bem como para dizer que alguma coisa causou algo. Dar poder a alguém também é um dos sentidos de set up. Bem, até aqui vimos cinco sentidos diferentes.
A próximas três definições de set up são bem coloquiais, com sentidos igualmente coloquiais em português. Usamos esse phrasal verb para dizermos "arrumar alguém para outra pessoa", "armar para alguém" e "pintar alguém como algo que a pessoa não é". Perceba que as traduções dessas três definições serão mais coloquiais e não muito ao pé da letra. Vamos então ver como usar esse phrasal verb?
1 – Vamos começar com set up no sentido de instalar, começar ou fundar algo:
The group plans to set up an import business.
O grupo planeja começar um negócio de importação.
Rebels have set up an independent state within the country.
Rebeldes instalaram um estado independente dentro do país.
(Repare na estrutura have + verbo no particípio. Ela é chamada de present perfect e a usamos para dizer, entre outra coisas, que algo ocorreu no passado, mas não sabemos quando)
We set up a fund to buy food for the needy.
Nós instalamos/criamos um fundo para comprar comida para os necessitados.
(O passado simples de set não muda, é set, como você pode perceber no exemplo acima)
The business owners set a bank up in the small town.
Os donos do negócio fundaram um banco na pequena cidade.
(Set up é um verbo separável, ou seja, você pode escolher separá-lo ou não pelo objeto da frase.)
2 – Agora set up como planejar, organizar:
I'll set up a meeting for Thursday.
Eu planejarei uma reunião para quinta-feira.
('ll é a contração de will, que antes de um verbo, o coloca no futuro.)
The programme will set up a regional library system.
O programa organizará um sistema regional de bibliotecas.
They set the meeting up for 9 a.m. tomorrow.
Eles organizaram a reunião para as 9 horas da manhã amanhã.
We have a little area set up for serving food.
Nós temos uma pequena área planejada para servir comida.
The police caught the gang trying to set up a kidnapping.
A polícia pegou a gangue tentando planejar um sequestro.
They didn't commit the crime, but they did set it up.
Eles não cometerem o crime, mas eles o planejaram.
(Como você pode ter percebido, set up foi separado pela partícula it, pois além dela ser o objeto da frase, é também um pronome. Quando isso ocorre, a separação do phrasal verb set up é obrigatória)
3 – Erguer/armar/montar ou construir também são significados possíveis de set up:
Police have set up a mobile incident unit outside the shop.
A polícia ergueu/montou uma unidade móvel de incidentes fora da loja.
My parents bought me a dollhouse, but I had to set it up myself.
Meus pais compraram uma casa de bonecas para mim, mas eu tive que construi-la/montá-la eu mesma.
It took nearly an hour to set up the tent.
Levou quase uma hora para armar/montar a barraca.
The kids are setting up the volleyball net.
As crianças estão armando a rede de vôlei.
(A estrutura verb to be + verbo principal + partícula ing passa a ideia de que algo acontece naquele momento.)
4 – Set up como causar:
Their negligence set up a chain reaction that resulted in extensive damage.
A negligência deles causou uma reação em cadeia que resultou em danos extensivos.
The new taxes set up howls of protest.
Os novos impostos causaram uivos de protestos.
The team's defense set up a good play.
A defesa do time causou um bom jogo.
5 – Set up também pode ser usado como dar poder a alguém:
A plan to set him up as party leader.
Um plano para dar poder a ele como líder do partido.
The board members set up the former secretary as the company's new president.
Os membros do conselho deram ao antigo secretário poder como novo presidente da empresa.
The leaders of the coup set the general up as a dictator.
Os líderes do golpe deram poder de ditador ao general.
6 – Os próximos exemplos serão de set up numa forma bem coloquial, como "arrumar alguém para outra pessoa". Veja:
I think we should set Ryan up with my cousin.
Eu acho que nós devíamos "arrumar" o Ryan para minha prima.
A friend set me up with his brother.
Um amigo me "arrumou" para seu irmão.
The dating service set us up.
O serviço de encontros nos "arrumou".
7 – Armar para alguém também pode ser usado como set up:
She claims she's innocent and someone set her up.
Ela afirma que é inocente e que alguém "armou" para ela.
I had nothing to do with the robbery! I was just standing there. Somebody must have set me up!
Eu não tive nada a ver com o roubo! Eu estava apenas em pé lá. Alguém deve ter "armado" para mim!
John isn't the one who started the fight. Somebody set up the poor guy.
John não é quem começou a briga. Alguém "armou" para o pobre rapaz.
8 – Finalmente, set up no sentido de "pintar" alguém como algo que a pessoa não é, ou "vender" alguém como algo que ela não é:
He sets himself up as some kind of financial expert.
Ele "se vende" como um tipo de especialista financeiro.
She set herself up as an authority on Latin, but she really doesn't know that much.
Ela se pinta como uma autoridade no Latim, mas ela realmente não sabe muito.
The newspapers set him up as a star athlete, but he had only played three professional games.
Os jornais "o vendem" como uma estrela do esporte, mas ele jogou apenas três jogos profissionais.
Foram muitos exemplos, com muitos usos diferentes de set up, não é? Por isso, não se cobre muito ao estudar esse phrasal verb. Vá aos poucos, no seu próprio ritmo. Usando o Anki, por exemplo, seu estudo pode ser mais eficaz e seu aprendizado mais efetivo. Não conhece essa ferramenta de repetição espaçada? Clique aqui e leia nosso tutorial completo! Gostou do post? Comente e compartilhe!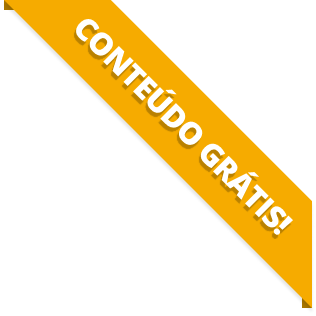 BAIXE O MATERIAL DO POST(PDF+MP3) PARA ESTUDAR QUANDO E COMO QUISER.