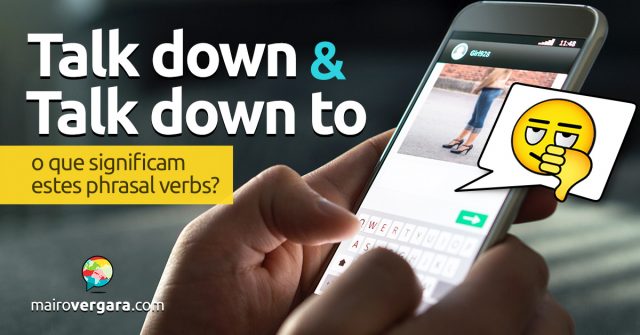 Olá! Hoje estudaremos dois phrasal verbs: talk down e talk down to. O primeiro tem alguns significados bastante distintos. Um deles é barganhar, ou seja, persuadir alguém a baixar o preço de algo. Outro é acalmar e, até persuadir alguém a não tomar uma decisão drástica. Também é reduzir a importância ou a gravidade de algo. Pode ser ganhar um debate ou até silenciar alguém. Há ainda o sentido muito específico de explicar a alguém como aterrissar um avião. Por fim, é falar com alguém de forma condescendente, arrogante, pedante ou presunçosa. Talk down to traz essa mesma ideia: falar com uma pessoa como se ela fosse menos importante ou inteligente do que você.
Vamos estudar cada um desses phrasal verbs e seus sentidos em contexto, para ficar mais claro. Mas antes de prosseguir, conheça o Anki, um programa de revisão perfeito para acelerar a sua aquisição de vocabulário. Aprenda a usar o Anki junto às frases de exemplo que trazemos, através do tutorial completo que fizemos a respeito.
1 – Talk down no sentido de barganhar.
He wanted five thousand dollars, but I talked him down to four.
Ele queria cinco mil dólares, mas eu o persuadi a baixar para quatro.
This is my final offer. Don't try to talk me down.
Esta é a minha oferta final. Não tente barganhar.
The customer talked the salesman down to $50 from a list price of $75.
O comprador convenceu o vendedor a baixar para 50 dólares o que havia sido anunciado por 75 dólares.
The price tag said $2,000 for the car, but I talked down the salesman by threatening to go elsewhere.
A etiqueta de preço dizia 2 mil dólares, mas eu barganhei com o vendedor ameaçando ir a outro lugar.
I managed to talk down the price of the used car.
Eu consegui barganhar o preço do carro usado.
2 – Talk down no sentido de acalmar ou persuadir alguém a não tomar uma decisão drástica.
She talked him down, telling jokes to ease the tension.
Ela o acalmou, contando piadas para aliviar a tensão.
James was so distraught after the breakup that I spent the rest of the night talking him down.
James estava tão perturbado pelo fim do relacionamento que eu passei o resto da noite o acalmando.
She was ready to go to the police and send us all to jail, so we had to talk her down.
Ela estava pronta para ir à polícia e nos mandar para a prisão, então tivemos de persuadi-la a não fazer isso.
3 – Talk down no sentido de reduzir a gravidade ou a importância de algo.
I don't like to hear people talking this country down.
Não gosto de ouvir pessoas falando mal deste país.
They talked down the importance of the move.
Eles atenuaram a importância da ação.
Stop talking the issue down like it isn't important, because it is!
Pare de amenizar o assunto como se não fosse importante, porque é!
The sales manager talked the changes down so the staff wouldn't worry.
O gerente de vendas suavizou o impacto das mudanças para que os funcionários não se preocupassem.
The company spokesperson made a point of talking down the reported side effects of the drug.
O porta-voz da companhia fez questão de amenizar os efeitos colaterais do remédio que foram relatados.
4 – Talk down no sentido de ajudar alguém a aterrissar um avião.
The fog was so thick the control tower had to talk us down.
O nevoeiro era tão espesso que a torre de controle teve de nos guiar.
The people on the ground talked down the amateur pilot successfully.
As pessoas no solo ajudaram o piloto Amador a aterrissar com sucesso.
I wonder how many movies have been made about someone talking a pilot down.
Eu me pergunto quantos filmes já foram feitos sobre alguém ajudando um piloto a aterrissar.
When the pilot died, a passenger was left to be talked down by a flying instructor.
Quando o piloto morreu, restou um passageiro para ser guiado por um instrutor de voo.
We just received word from the pilot that his navigation equipment isn't working, so we're going to have to talk him down.
Acabamos de ser informados pelo piloto que seu equipamento de navegação não está funcionando, então teremos de guiá-lo.
5 – Talk down no sentido de ganhar um debate ou de fazer alguém ficar quieto.
Liz was able to talk her opponent down.
Liz conseguiu derrotar seu oponente no debate.
Her opponent was able to talk her down during the debate and was deemed the victor.
O seu oponente conseguiu ganhar durante o debate e foi considerado o vencedor.
The crowd talked down the speaker.
A multidão silenciou o orador.
6 – Talk down no sentido de depreciar, ser arrogante ou condescendente com alguém.
She talked down her opponent.
Ela rebaixou seu oponente.
Every time we tried to say anything, they just talked us down.
Toda vez que tentávamos dizer alguma coisa, eles apenas nos desdenhavam.
They talked down whatever objections she brought up.
Eles menosprezaram todas as objeções que ela levantou.
7 – Talk down to, que também significa depreciar, ser arrogante ou condescendente com alguém.
The unpopular principal talked down to the students.
O impopular diretor foi arrogante com os estudantes.
I wish politicians wouldn't talk down to us as if we were idiots.
Gostaria que os políticos não nos tratassem como se fôssemos idiotas.
I try not to talk down to my kids when they ask me a serious question.
Eu tento não ser condescendente com meus filhos quando eles me fazem perguntas sérias.
Se você curtiu saber mais sobre talk down e talk down to, compartilhe o post com seus colegas. Comente abaixo qualquer dúvida ou sugestão e até mais!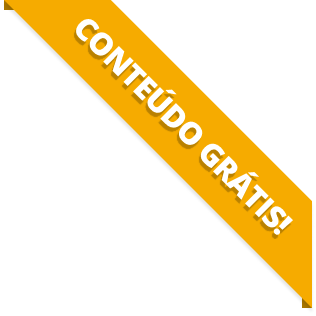 BAIXE O MATERIAL DO POST(PDF+MP3) PARA ESTUDAR QUANDO E COMO QUISER.