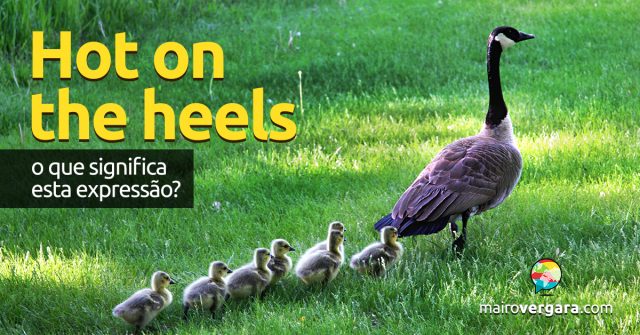 "Quente nos calcanhares" é uma possível tradução literal de hot on the heels. Essa frase é obviamente um tanto sem nexo, à primeira vista, mas você verá que é uma metáfora para o significado real de hot on the heels.
Hot on the heels transmite o sentido de "perseguindo bem de perto" ou, como dizemos popularmente, "na cola" — esta última tradução talvez seja mais adequada, uma vez que é uma metáfora como hot on the heels.
Há ainda outro uso da expressão. Quando se diz que algo aconteceu hot on the heels de alguma outra coisa, significa que aconteceu "logo em seguida", "logo depois" dessa outra coisa.
Além disso, é muito utilizada a forma alternativa hard on the heels. Só para lhe dar uma intuição do porquê: a palavra hard significa "duro", "difícil", "forte", entre outras coisas. Como advérbio, hard pode ser "arduamente", "intensamente", "duramente".
A seguir, trazemos exemplos de ambas as formas. Basta praticar com essas frases para dominar efetivamente a expressão. Recomendamos também que use o Anki com as frases. É um processo simples, que você pode aprender no tutorial completo do Anki.
Hot on the heels
Seguem os exemplos da primeira forma. Um detalhe é que hot on the heels é uma frase "impessoal", digamos. Mas podemos ter uma forma "pessoal", designando quem está sendo perseguido. Nesse caso, usamos a estrutura hot on (his, her, their, etc.) heels; no lugar dos parênteses, ao invés de the, ficará o pronome possessivo adequado (um daqueles três, por exemplo). Os exemplos a seguir vão clarificar essas duas opções, fique tranquilo:
The two men were running with a police officer hot on their heels.
Os dois homens estavam correndo com um oficial de polícia na cola deles.
(Aqui temos a forma "pessoal". O pronome possessivo "deles" corresponde a "their".)
Look, the cops are hot on their heels! They better pull over fast.
Olha, os policiais estão na cola deles! É melhor eles pararem rápido.
("Pull over" aqui significa parar um veículo. Veja nosso post sobre esse phrasal verb.)
Look, the cops are hot on the heels of the bank robbers!
Olha, os policiais estão na cola dos ladrões de banco!
The new revelation comes hot on the heels of the previous scandal.
A nova revelação vem logo em seguida do escândalo prévio.
The gardener burst in with Mrs. Cartwright hot on his heels.
O jardineiro entrou abruptamente, com a Sra. Cartwright na cola dele.
She left the restaurant with him hot on her heels.
Ela deixou o restaurante com ele na cola dela.
The shocking news comes hot on the heels of the company axing its site in Scotland.
A notícia chocante vem logo em seguida da empresa fechar sua instalação na Escócia.
("Axe" aqui é um verbo que significa "fechar", "cancelar", "interromper", embora seja mais comum como o substantivo "machado". "Site" não se refere aqui a um website, mas a um local físico.)
The leading candidate should be concerned. The underdog is hot at his heels.
O candidato líder deveria estar preocupado. O azarão está na cola dele.
("Underdog" significa um "competidor que tem pouca chance de vencer uma luta/competição" ou também uma "pessoa de baixo status na sociedade".)
The one-time underdog is hot on the heels of the leading candidate.
O outrora azarão está na cola do candidato líder.
Great Britain's Dave Hall and Jessica Smith were hot on their heels.
Dave Hall e Jessica Smith, da Grã-Bretanha, estavam na cola deles.
She may lose the title of valedictorian to one of the students who are hot at her heels.
Ela pode perder o título de oradora da turma para um dos estudantes que estão na cola dela.
Hard on the heels
Agora, seguem os exemplos de hard on the heels. As duas opções sintáticas mencionadas anteriormente valem também para essa forma:
The police were hard on their heels.
A polícia estava na cola deles.
I got bronchitis hard on the heels of a lengthy cold.
Eu peguei bronquite logo depois de um longo resfriado.
Unfortunately, bad news has come hard on the heels of good.
Infelizmente, más notícias vieram logo em seguida de boas.
A second mistake followed hard on the heels of the first one.
Um segundo erro acompanhou logo em seguida do primeiro.
This disaster comes hard on the heels of last week's train crash.
Este desastre vem logo em seguida da batida de trem da semana passada.
Since the dog was hard on my heels, I was very relieved to reach my house and run inside.
Já que o cachorro estava bem na minha cola, eu fiquei muito aliviado em alcançar minha casa e correr para dentro.
The major mobile phone manufacturers are hard on Apple's heels.
As grandes fabricantes de celular estão na cola da Apple.
Apple is hard on Google's heels having already applied for a home automation patent.
A Apple está na cola da Google, havendo já solicitado uma patente de automação doméstica.
We need to tighten up on defense because these guys are hard on our heels right now.
Nós precisamos fortalecer as defesas, porque esses caras estão bem na nossa cola agora.
("Tighten up on" é um phrasal verb que aqui significa "fortalecer", "reforçar".)
The next generation of British athletes is pressing hard on the heels of today's champions.
A próxima geração de atletas Britânicos está fazendo pressão, bem na cola dos campeões de hoje.
É isso por hoje. Se você curtiu o post, compartilhe com seus colegas. Comente sua dúvida/sugestão abaixo e até mais!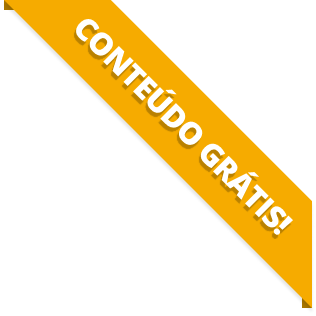 BAIXE O MATERIAL DO POST(PDF+MP3) PARA ESTUDAR QUANDO E COMO QUISER.