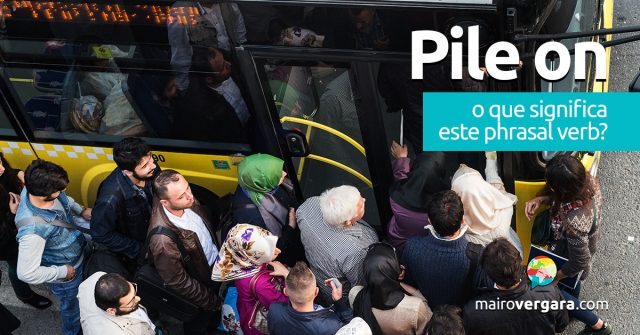 Sim, o verbo de hoje tem várias acepções diferentes, mas na verdade ele não é difícil de aprender. Como o verbo shake off, que vimos a pouco tempo, os significados de pile on também seguem uma mesma ideia fixa.
Qual ideia é essa? Fácil: a de "amontoar" ou "empilhar". Pile, afinal de contas, é "empilhar" (ou, como substantivo, "pilha").
Vejamos um por um os diferentes tipos de situações onde pile on é usado. Lembre-se de anotar alguns dos exemplos no Anki a fim de poder revisar e guardar os significados melhor na sua memória.
1 – "Amontoar(-se)", "empilhar(-se)" fisicamente em algum lugar.
We all piled on as soon as they opened the doors of the bus.
Todos nos amontoamos assim que abriram as portas do ônibus.
The whole team piled onto the running back after he scored the winning touchdown.
A equipe toda se empilhou sobre o running back após ele ter marcado o touchdown vencedor.
(Running back e touchdown são termos de futebol americano, e não vou fingir que consigo explicar melhor do que isso. Só fica a pergunta: por que o jogo se chama "futebol" se não usa o pé, e por que "americano" se é coisa dos EUA? Pela lógica deveria se chamar handebol estadunidense!)
The kids piled on the bed to watch the scary movie together.
As crianças se amontoaram na cama para assistir juntas o filme assustador.
2 – Pile on também pode ser usado, de forma mais abstrata, no sentido de "acumular(-se)".
Responsibilities piled on while I was abroad.
As responsabilidades se acumularam enquanto eu estava no exterior.
I used credit card cash advances, piling on more debt.
Eu usei adiantamentos de cartão de crédito, acumulando mais dívidas.
I had little time for all the tasks that were piling on.
Eu tinha pouco tempo para todas as tarefas que estavam se acumulando.
The team piled on the points in the first half of the game.
O time acumulou os pontos no primeiro tempo do jogo.
3 – Outro sentido de pile on é o de "acumular" ou "ganhar" peso. Aqui temos a expressão to pile on the pounds, parecida com "ganhar uns quilinhos" (mas lembrando que a coisa pode não ser tão ruim quanto parece, já que uma libra de peso equivale a menos de meio quilo).
I always pile on the pounds over Christmas.
Eu sempre ganho uns quilinhos no Natal.
(Ou …no período de Natal.)
I've been piling on the pounds.
Estive ganhando uns quilinhos.
When I returned to live with my parents, the weight piled on because I was stuffing myself with home cooking.
Quando voltei para viver com meus pais, ganhei peso porque estava me enchendo de comida caseira.
I'd given up smoking, but I piled on weight as a result, which was a bad thing.
Eu havia parado de fumar, mas ganhei peso como resultado, o que foi uma coisa ruim.
4 – Com frequência, pile on é usado no sentido de "aumentar" a pressão:
The UN is piling on the pressure and the two sides may both have to withdraw.
A ONU está aumentando a pressão e os dois lados podem ambos ter de se retirar.
Threats to withhold aid have not helped but simply piled on the pressure in an entirely unjust way.
As ameaças de suspender o auxílio não ajudaram, e simplesmente aumentaram a pressão de forma totalmente injusta.
The pressure piled on throughout the day.
A pressão foi aumentando durante o dia.
The German team piled on the pressure in the last 15 minutes.
O time alemão aumentou a pressão nos últimos 15 minutos.
They piled on the pressure as the game came to a close, and scored in the final minute.
Eles aumentaram a pressão conforme o jogo chegava ao fim, e marcaram no minuto final.
5 – Quando usado em referência a críticas (injustas) feitas a alguém, pile on pode ser traduzido como "atacar" ou "apedrejar". A imagem aqui é a de vários críticos todos "se empilhando" sobre a vítima de suas censuras – como os Agentes Smith se atirando no Neo.
After the first few negative reviews, all the other critics started piling on.
Após as primeiras resenhas negativas, todos os outros críticos começaram a apedrejar.
People from across the state have been piling onto me ever since I wrote my controversial opinion piece for the local paper.
Pessoas de todo o estado têm estado me atacando desde que escrevi meu controverso artigo de opinião para o jornal local.
She's been through enough already — I don't think we need to pile on any further.
Ela já passou por muita coisa – não acho que devamos atacar ainda mais.
6 – Finalmente, um significado um pouquinho mais remoto da origem: o de "fazer drama" ou "exagerar a importância" de uma situação emocional.
I know I'm piling it on a bit, but there is a serious point to be made.
Eu sei que estou exagerando um pouco a importância, mas há um ponto sério a ser feito.
Don't pile on the drama!
Não exagere o drama!
Things aren't really that bad — she does tend to pile it on.
As coisas não estão mesmo tão ruins – ela tende mesmo a exagerar.
Espero que você tenha curtido mais esse post. Se tiver sobrado alguma dúvida, deixe seu comentário aí e logo respondemos!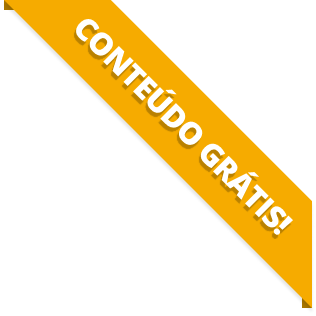 BAIXE O MATERIAL DO POST(PDF+MP3) PARA ESTUDAR QUANDO E COMO QUISER.