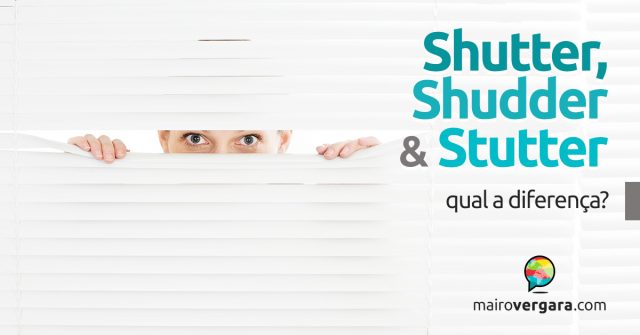 No post de hoje, veremos a diferença entre shutter, shudder e stutter. Essas palavras são muito parecidas na escrita e a pronúncia delas é quase igual (shutter e shudder têm a mesma pronúncia, só stutter que é levemente diferente, como você verá nos áudios). Já os significados são extremamente diferentes.
Shutter tem três significados: identifica algo que é chamado em português de "adufa" (uma folha externa colocada em janelas, para deixar apenas passar o ar, mas escurecendo o ambiente); identifica o "obturador" de uma câmera; como verbo, refere-se ao ato de "fechar as adufas (de uma janela)".
Shudder tem dois sentidos: como verbo, significa "estremecer" e como substantivo equivale a "estremecida", "arrepio" ou "calafrio". Já stutter equivale ao verbo "gaguejar" e ao substantivo "gaguejo".
Vamos aos exemplos contextualizados de shutter, shudder e stutter. Lembre-se de usar o Anki com estes exemplos, para obter uma eficácia muito maior nos estudos. Se não conhece o Anki ainda, veja o tutorial completo dessa ferramenta indispensável ao aprendizado de línguas.
Shutter
1 – Primeiro, seguem exemplos de shutter como "adufa" de uma janela:
He threw open the shutters to let in air and light.
Ele abriu as adufas para deixar entrar ar e luz.
("Throw" é um verbo que significa "jogar", "lançar", entre outras coisas. "Throw open" é só uma maneira de dizer "abrir", implicando que há um movimento similar ao de "jogar" ou "lançar" neste ato.)
We closed the shutters and withdrew into ourselves.
Nós fechamos as adufas e retraimo-nos para dentro de nós mesmos.
She opened the shutters and gazed out over village roofs.
Ela abriu as adufas e olhou por cima dos telhados da vila.
A pair of windows with wooden shutters allows for a good deal of incoming light.
Um par de janelas com adufas de madeira permite uma boa quantidade de entrada de luz.
2 – Agora confira shutter como o ato de "fechar as adufas" de uma janela:
The windows were shuttered against the afternoon heat.
As janelas estavam com as adufas fechadas contra o calor da tarde.
Close the doors, shutter the windows, send them all home.
Feche as portas, feche as adufas da janela, mande-os todos para casa.
I glanced around, at the musty bookshelves and shuttered windows.
Eu olhei ao redor, para as prateleiras mofadas e janelas com adufas fechadas.
Its windows were shuttered, so that no one could see into the court from outside.
Suas janelas estavam com as adufas fechadas, para que ninguém conseguisse ver a corte pelo lado de fora.
3 – O terceiro e último sentido de shutter é "obturador", que tecnicamente é o "dispositivo da câmera fotográfica que tem a função de regular a duração da exposição da chapa ou filme sensível":
Arbus focused her camera and triggered the shutter.
Arbus focou sua câmera e disparou o obturador.
The camera shutter was open for 8 milliseconds per frame.
O obturador da câmera esteve aberto durante 8 milissegundos por frame.
Cassini actually had to rotate while the camera shutter was open.
Cassini na verdade teve que rotacionar enquanto o obturador da câmera estava aberto.
There are a few things you should check before pressing the shutter release.
Há algumas coisas que você deve checar antes de apertar o botão obturador.
Shudder
1 – Shudder pode equivaler ao verbo "estremecer":
She still shuddered at the thought of him.
Ela ainda estremecia ao pensar nele.
I shuddered with horror.
Eu estremeci de horror.
People shudder at the thought of them and turn away.
As pessoas estremecem ao pensar neles e desviam o olhar.
("Turn away" também pode ser "virar as costas", "dar as costas", "recusar" e "se afastar" em contextos similares.)
Leaning close to whisper in his ear I felt his body shudder.
Chegando mais perto para sussurrar no ouvido dele eu senti seu corpo estremecer.
2 – Shudder equivale aos substantivos "estremecida", "arrepio" e "calafrio":
The elevator rose with a shudder.
O elevador subiu com uma estremecida.
A shudder went through her body, and she broke contact with him.
Um arrepio passou pelo corpo dela, e ela cessou contato com ele.
A shudder passed through her body and all the colour drained from her face.
Um calafrio passou pelo corpo dela e toda a cor esvaiu-se de seu rosto.
An involuntary shudder snaked through my body.
Um arrepio involuntário esgueirou-se pelo meu corpo.
Stutter
1 – Stutter equivale ao verbo "gaguejar":
The child was stuttering in fright.
A criança estava gaguejando de medo.
My voice was so hesitant it sounded like I was stuttering.
Minha voz estava tão hesitante que parecia que eu estava gaguejando.
Geb and Sahib stuttered in fright and pointed behind her.
Geb e Sahib gaguejaram de medo e apontaram para trás dela.
In a cracked voice, he stuttered the words, "I'm sorry."
Numa voz rachada, ele gaguejou as palavras "Eu sinto muito".
"W-what's happened?", she stuttered.
"O-o que aconteceu?", ela gaguejou.
2 – Stutter também equivale ao substantivo "gaguejo":
She made a sound, a stutter, but couldn't form or think of any words to say.
Ela fez um som, um gaguejo, mas não conseguia formar ou pensar em quaisquer palavras para dizer.
"She's p-perfectly j-justified", he said with his intermittent stutter.
"Ela está p-perfeitamente j-justificada", ele disse com seu gaguejo intermitente.
In almost every case, it's the smile, or the stutter, that decides it all.
Em quase todo caso, é o sorriso, ou o gaguejo, que decide tudo.
When you have a stutter, your own language is hard enough, let alone trying something new.
Quando você tem um gaguejo, sua própria língua é difícil o bastante, quanto mais tentar algo novo.
É isso por hoje. Agora é só praticar bastante com o Anki e obter resultados fantásticos! Compartilhe o post, comente qualquer sugestão/dúvida e até mais!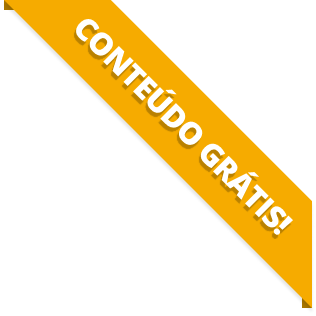 BAIXE O MATERIAL DO POST(PDF+MP3) PARA ESTUDAR QUANDO E COMO QUISER.