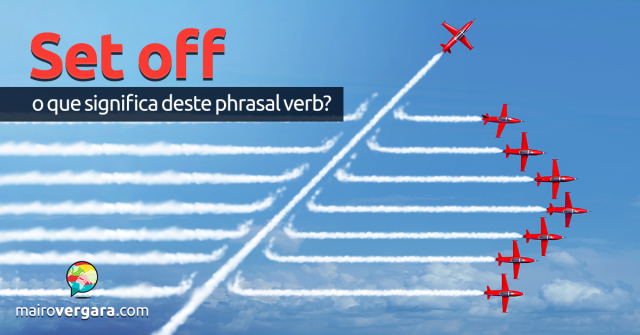 Continuando com a nossa fantástica série de phrasal verbs e chegando agora ao post de número 103 desta categoria, falaremos hoje sobre o phrasal verb set off. Esta expressão tem cinco sentidos diferentes. Seus sentidos são: partir/embarcar; causar/disparar; detonar; realçar e fazer alguém ficar bravo. São sentidos bem diferentes um do outro, que você vai entender ao ler os exemplos. Lembre-se que é importante praticar sempre com os exemplos que disponibilizamos para fixar as novas estruturas. Você pode usar o Anki para isso. Leia mais sobre ele aqui. Vamos então aos exemplos?
1 – Os primeiros exemplos de set off serão como embarcar/partir. Algo importante de se notar aqui é que em vez de to, com o phrasal verb set off será usado for, quando quisermos dizer "para algum lugar".
We set off early the next morning.
Nós partiremos cedo amanhã de manhã.
We set off for Springfield three hours late.
Nós partimos para Springfield três horas mais tarde.
In the afternoon we could set off.
À tarde nós poderíamos partir.
When do you set off for Europe?
Quando você embarca para a Europa?
(Quando você parte para a Europa?)
2 – Nos próximos exemplos, veremos set off como causar, disparar:
Jeff pushed open the front door, which set off the alarm.
Jeff empurrou a porta da frente, o que disparou o alarme.
(Perceba que o exemplo acima está no passado, mas que o verbo não muda, pois o passado simples de set é set)
The acid set off a chemical reaction.
O ácido causou uma reação química.
Rumors set off a wave of selling on the stock exchange.
Rumores causaram uma onda de vendas na bolsa de valores.
He fears that the election could set off mass protests.
Ele tem medo que a eleição possa causar protestos em massa.
3 – Set off no sentido de detonar:
The investigation determined that he probably did not set off the blast deliberately.
A investigação determinou que ele provavelmente não detonou a explosão deliberadamente.
Apparently the bomb was placed in a locker and someone set it off with a cell phone.
Aparentemente a bomba foi colocada em um armário e alguém detonou-a com um celular.
(Quando temos um objeto na frase que é um pronome – no exemplo "it" – esse pronome tem que separar o phrasal verb set off.)
Somebody was setting off fireworks down the street.
Alguém estava detonando fogos de artifício pela rua.
(A estruturas was + verbo com a partícula ing, passa a ideia de que uma ação era contínua, mas no passado.)
4 – Nos exemplos abaixo, set off está como sinônimo de realçar: 
Her plain blue dress was set off by a feather-trimmed hat.
O vestido dela, azul liso, era realçado por um chapéu de penas apradas.
You look terrific with those black shoes, and the bright blue blouse sets off your eyes.
Você está fantástica com esse sapatos pretos e a blusa azul brilhante realça seus olhos.
That color sets off her blonde hair.
Aquela cor realça o cabelo loiro dela.
5 – Por fim, veremos set off como fazer alguém ficar bravo:
The clerk's indifference finally set me off.
A indiferença do balconista finalmente me fez ficar bravo.
The constant delays set off even the most patient passengers.
Os atrasos constantes deixaram bravos até os passageiros mais pacientes.
My sister was an unpredictable young woman, and I never knew what would set her off.
Minha irmã era uma jovem mulher imprevisível e eu nunca soube o que a deixaria brava.
Espero que com o post você tenha conseguido ampliar seu vocabulário. Mas, para que isso seja realmente efetivo, lembre-se que praticar é indispensável. Se gostou, comente e compartilhe!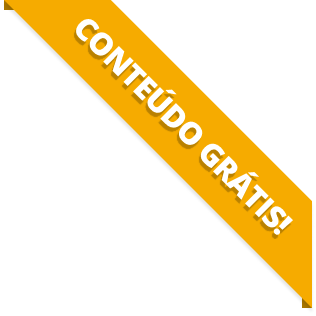 BAIXE O MATERIAL DO POST(PDF+MP3) PARA ESTUDAR QUANDO E COMO QUISER.