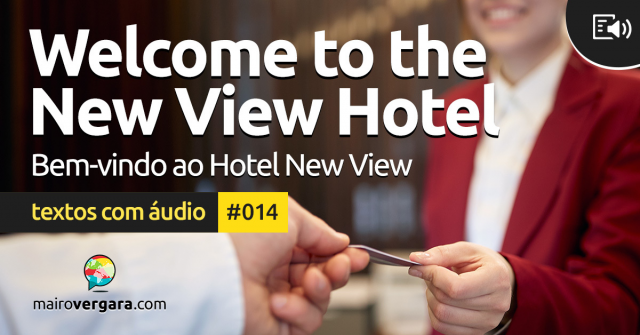 ÁUDIO DO TEXTO
TEXTO EM COLUNAS
| | |
| --- | --- |
| Welcome to the New View Hotel | Bem-vindo ao Hotel New View (tradução) |
| Welcome to the New View Hotel! We hope you enjoy your stay! Your room is number 304. Here is your key. You may leave your bags here; the bellboy is going to take them to your room. Don't forget your complimentary champagne bottle: it's in the minibar. Now, may I confirm your address and your telephone number? Right! Just one more thing: may you please hand me your credit card? Thank you! | Bem-vindo ao Hotel New View! Esperamos que você aprecie sua estadia. Seu quarto é o número 304. Aqui está sua chave. Você pode deixar suas malas aqui; o carregador vai levá-las ao seu quarto. Não se esqueça de sua garrafa de champanhe de cortesia: ela está no frigobar. Agora, posso confirmar o seu endereço e seu número de telefone? Certo! Só mais uma coisa: você pode, por favor, me alcançar seu cartão de crédito? Obrigado! |
TEXTO LINHA A LINHA
Welcome to the New View Hotel!
Bem-vindo ao Hotel New View!
We hope you enjoy your stay!
Nós esperamos (que) você aprecie sua estadia.
Nota: Às vezes, podemos deixar o THAT (QUE) de fora das frases em inglês. Mais um exemplo: I hope (that) you're okay = Espero que você esteja bem.
Your room is number 304.
Seu quarto é o número 304.
Here is your key.
Aqui está sua chave.
You may leave your bags here;
Você pode deixar suas malas aqui;
the bellboy is going to take them to your room.
o carregador vai levá-las ao seu quarto.
Don't forget your complimentary champagne bottle:
Não se esqueça de sua garrafa de champanhe de cortesia:
Nota: Quando algo é complimentary, quer dizer que é de cortesia. Outro exemplo: The casino offers a complimentary buffet = O cassino oferece um buffet de cortesia.
it's in the minibar.
ela está no frigobar.
Now, may I confirm your address
Agora, posso confirmar seu endereço
and your telephone number?
e seu número de telefone?
Right!
Certo!
Just one more thing:
Só mais uma coisa:
may you please hand me your credit card?
você pode, por favor, me alcançar seu cartão de crédito?
Thank you!
Obrigado!
FOCO DO TEXTO
O foco deste texto é o uso de YOUR (seu, sua, seus, suas, teu, teus, tua, tuas).
Também aprendemos palavras e frases relacionadas a hotéis.
NOTAS EXPANDIDAS
1 – Aqui no Brasil, chamamos as pessoas de VOCÊ ou de TU. Em inglês, dizemos YOU. Da mesma forma, quando dizemos que algo pertence ou tem alguma relação com uma pessoa, podemos usar SEU, SUA, SEUS, SUAS (que combinam, por assim dizer, com VOCÊ) ou, ainda, TEU, TEUS, TUA, TUAS (que combinam com TU). Tudo isso, em inglês, é YOUR.
What's

your

name?
Qual é o

seu/teu

nome?
What's

your

favorite color?
Qual é a

sua/tua

cor favorita?
Where is

your

sister?
Onde está a

sua/tua

irmã?
Where is

your

brother?
Onde está o

seu/teu

irmão?
Where are

your

friends?
Onde estão os

seus/teus

amigos? Onde estão as suas/tuas amigas?
How are

your

parents?
Como estão os

seus/teus

pais?
Is this

your

book?
Este é o

seu/teu

livro?
Can I use

your

pen?
Posso usar

sua/tua

caneta?
I love

your

blouse!
Eu amo a

sua/tua

blusa!

Your

shoes are very elegant.

Seus/teus

sapatos são muito elegantes.

Your

dog is so cute!

Seu/teu

cachorro é tão fofinho!
You forgot

your

wallet!
Você/tu esqueceu

sua/tua

carteira!
IMPORTANTE: Nós usamos YOUR quando estamos falando com apenas uma pessoa (como é o foco deste texto) ou quando estamos falando com duas ou mais pessoas (o que vamos ver no próximo texto).