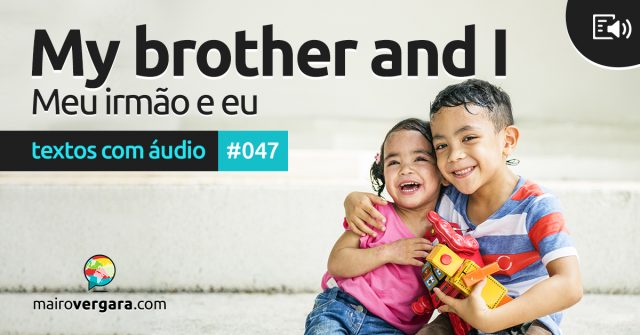 ÁUDIO DO TEXTO
TEXTO EM COLUNAS
| | |
| --- | --- |
| My brother and I | Meu irmão e eu (tradução) |
| Sometimes my brother and I fight, but we usually get along very well. We go to school together, and we play a lot when we come back home. We play with my dolls and with his toy cars, and with board games, video games, and all kinds of games. We always help our parents clean the house, and we take care of our dog, Mr. Tails. Every Saturday we go to our grandparents' home. We have so much fun there! | Às vezes meu irmão e eu brigamos, mas nós geralmente nos damos muito bem. Nós vamos à escola juntos e nós brincamos muito quando voltamos para casa. Nós brincamos com os meus bonecos, os carrinhos de brinquedo dele, e com jogos de tabuleiro, videogames e todos os tipos de jogos. Nós sempre ajudamos nossos pais a limpar a casa e nós cuidamos do nosso cachorro, Senhor Caudas. Todo domingo nós vamos à casa dos nossos avós. Nós nos divertimos muito lá! |
TEXTO LINHA A LINHA
Sometimes my brother and I fight,
Às vezes meu irmão e eu brigamos,
but we usually get along very well.
mas nós geralmente nos damos muito bem.
Nota: um dos usos de get along é o de dar-se bem, ter uma boa relação. Exemplos: We get along well enough, but we're not really close friends = Nós nos damos bem o suficiente, mas não somos amigos íntimos; It's impossible to get along with him = É impossível se dar bem com ele.
We go to school together,
Nós vamos para a escola juntos,
and we play a lot when we come back home.
e nós brincamos um monte quando voltamos para casa.
Nota: come back é um phrasal verb que significa voltar.
We play with my dolls
Nós brincamos com minhas bonecas
and with his toy cars,
e com os carrinhos dele,
and with board games,
e com jogos de tabuleiro,
video games, and all kinds of games.
videogames e todos os tipos de jogos.
Nota: kind é uma palavra bem versátil. Quando a gente diz, por exemplo, She is kind, estamos dizendo que Ela é gentil. Mas kind tem outros usos também. Pode significar tipo. I like this kind of music = Eu gosto deste tipo de música.
We always help our parents clean the house,
Nós sempre ajudamos nossos pais a limpar a casa,
and we take care of our dog, Mr. Tails.
e nós cuidamos do nosso cachorro, Sr. Caudas.
Every Saturday we go to our grandparents' home.
Todos os sábados, nós vamos à casa dos nossos avós.
We have so much fun there!
Nós nos divertimos muito lá!
FOCO DO TEXTO
O foco desse texto é descrever a NOSSA rotina (uso de WE no presente simples).
NOTAS EXPANDIDAS
1 – Para dizer "nós fazemos alguma coisa", ou seja, para falar sobre nossa rotina, usamos WE e o verbo sem nenhuma modificação. Podemos ainda usar palavras como always (sempre), usually (geralmente), sometimes (às vezes) e never (nunca), entre outras. Vamos ver alguns exemplos:
We

always

drink coffee in the morning.
Nós

sempre

bebemos café de manhã.
We

always

watch TV at night.
Nós

sempre

assistimos à TV à noite.
We

usually

go to work by car.
Nós

geralmente

vamos ao trabalho de carro.
We

usually

get home at 8 pm.
Nós

geralmente

chegamos em casa às 8 da noite.

Sometimes

we eat out.

Às vezes

nós comemos fora.
We

sometimes

drink wine.
Nós

às vezes

bebemos vinho.
We

never

go to concerts.
Nós

nunca

vamos a shows.
We

never

eat pizza.
Nós

nunca

comemos pizza.
We clean the house

every Saturday

.
Nós limpamos a casa

todos os sábados

.
We go to the movies

once a week

.
Nós vamos ao cinema

uma vez por semana

.