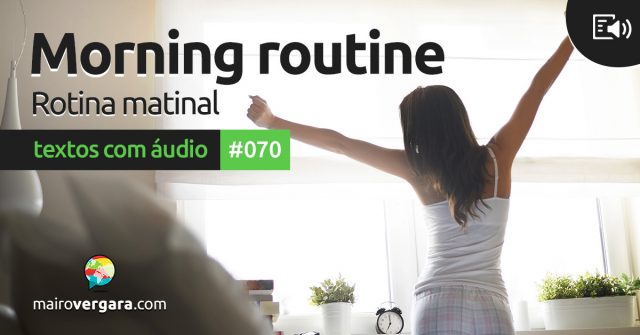 ÁUDIO DO TEXTO
TEXTO EM COLUNAS
| | |
| --- | --- |
| Morning routine | Rotina matinal (tradução) |
| It's 7 o'clock! Wake up! Now brush your teeth, comb your hair and get dressed. Make your bed. Now eat your breakfast. We are out of cereal, eat the toast. Put the dishes in the sink, please. And put the milk in the fridge. Take your backpack. Where is your backpack? Oh, find it now! Check it to see if you have everything you need. Ok, now go. Take care, ok? Have a great day at school. And eat your apple, not just the cookies. | São sete horas! Acorde! Agora escove os dentes, penteie seu cabelo e vista-se. Arrume sua cama. Agora coma seu café da manhã. Estamos sem cereal, coma torrada. Coloque a louça na pia, por favor. E coloque o leite na geladeira. Pegue sua mochila. Onde está sua mochila? Ah, encontre ela agora! Veja se você tem tudo o que precisa. Ok, agora vá. Se cuide, ok? Tenha um ótimo dia na escola. E coma sua maçã, não só os biscoitos. |
TEXTO LINHA A LINHA
It's 7 o'clock!
São sete horas!
Nota: usamos o'clock quando falamos uma hora exata: It's 4 o'clock (são 4 horas); It's 10 o'clock (São 10 horas).
Wake up!
Acorde!
Nota: wake up é um phrasal verb, ou seja, um verbo formado por duas ou mais partes.
Now brush your teeth,
Agora escove os dentes,
comb your hair
penteie seu cabelo
and get dressed.
e vista-se.
Nota: to get dressed é se vestir.
Make your bed.
Arrume sua cama.
Nota: para falar arrumar a cama usamos o verbo make.
Now eat your breakfast.
Agora coma seu café da manhã.
We are out of cereal,
Estamos sem cereal,
Nota: to be out of (something) é estar sem (alguma coisa). We are out of toilet paper = Estamos sem papel higiênico.
eat the toast.
coma a torrada.
Put the dishes in the sink, please.
Coloque a louça na pia, por favor.
And put the milk in the fridge.
E coloque o leite na geladeira.
Take your backpack.
Pegue sua mochila.
Where is your backpack?
Onde está sua mochila?
Oh, find it now!
Ah, encontre ela agora.
Check it to see if you have
Veja se você tem
everything you need.
tudo o que você precisa.
Ok, now go.
Ok, agora vá.
Take care, ok?
Se cuide, ok?
Have a great day at school.
Tenha um ótimo dia na escola.
And eat your apple, not just the cookies.
E coma a sua maçã, não só os biscoitos.
FOCO DO TEXTO
O foco do texto é o IMPERATIVO, ou seja, como mandar ou pedir que alguém faça alguma coisa.
NOTAS EXPANDIDAS
Para pedir que alguém faça algo – ou mandar alguém fazer alguma coisa – usamos somente o verbo sem fazer nenhuma modificação. É bem simples. A regra é a mesma para quando estamos falando com duas ou mais pessoas. Vamos ver mais exemplos.
Be nice to your brother.
Seja legal com seu irmão.
ou
Sejam legais com o seu irmão.
Clean your room.
Limpe seu quarto.
ou
Limpem seu quarto.
Do your homework.
Faça sua lição de casa.
ou
Façam sua lição de casa.
Hurry up, girls; we're late.
Apressem-se, meninas; estamos atrasados.
Have fun.
Divirta-se.
ou
Divirtam-se.
Open your books.
Abram seus livros.
Stop running.
Pare de correr.
ou
Parem de correr.
*No trabalho ou em situações mais formais, usamos outras estruturas para fazer pedidos, ok? Assim pode soar um pouco ríspido dependendo do contexto.